Turkeys 4 Sale
"Thanksgiving Projects for Preschoolers"
This project idea was given to me by Kerry from Playful Garden Daycare. Visit her Facebook Fan Page for lots more fun craft projects to do with your kids!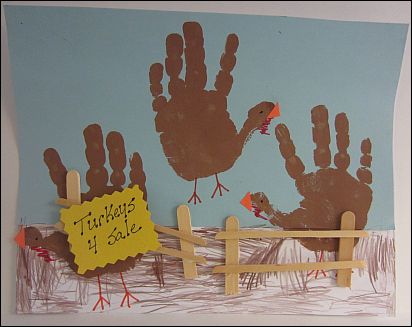 Supplies Needed:
Cut a 3" strip of copy paper, color it brown and glue to the bottom section of the light blue construction paper.
Paint a child's hand with brown tempera paint and make various prints on the paper. After the paint is dry, use red and orange sharpies to draw in the details of the turkey. Cut small diamond shapes out of orange construction paper for the turkey beak.
Use the exacto knife to score two popsicle sticks horizonally and the scissors to cut two popsicle sticks vertically to build the fence. Glue into place.
Cut a small rectangle from yellow construction paper and print the words "Turkeys 4 sale". Glue to the fence.
Return to Top of Page


For ideas on how to throw a KID'S THANKSGIVING PARTY!
Return to Top of Thanksgiving Projects for Preschoolers

Pages of Interest: