Valentines Day Snack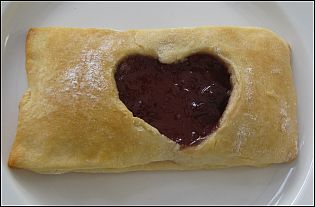 This is a super cute snack to make for Valentine's Day. You can either take the crescent sheet and cut it into sections or use crescent rolls and use two of them together to create a rectangle. Spread strawberry jam on one half. Cut a heart out in the other half. (I used a Playdough shape cutter, but you can also do it with a sharp knife.) Fold the crescent dough in half and pinch the edges. Bake according to the crescent roll instructions. Remove from oven and sprinkle with powdered sugar. Let cool and serve.
---

Where Can You Find DaycareAnswers.com?


Visit my website at DaycareAnswers.com

Come on over to my Facebook Fan Page and "Like" me!

You can join the Daycare Provider Facebook Group and chat with other daycare providers.

Or join the newest craze and follow my boards on Pinterest.
---

If you enjoyed this issue of DaycareAnswers Newsletter and would like to take a look at previous month's newsletters, go to Newsletter Back Issues.
---
New! Comments
Have your say about what you just read! Leave me a comment in the box below.