Here's what you'll find in this month's issue:

---
I'd like to welcome all the new subscribers to the DaycareAnswers.com Newsletter. I'm so glad you signed up. I want my newsletter to provide you with fresh ideas for craft projects for the kids, new recipes to try, plus share interesting or funny stories. When I come across an interesting website that I found on the internet, I'll share that with you too.
I'd also love to hear from you. Please feel free to share a story, a recipe, a project or an interesting website. Anything you'd like to pass along can be sent to marciar981@aol.com
---

We're now on Facebook and Twitter
DaycareAnswers.com just made a Fan Page on Facebook. We'd love it if you'd come join us!
Please click here to view our new fan page!

While you're there, click on the "like" button to share our fan page with friends and family.
You can also follow us on Twitter:

---
Recipe: Indoor S'mores
It's summer time and that means it's camping season. Lots of families get to sit around a campfire, roast marshmallows and enjoy the wonderful taste of S'mores.
But I've always felt sorry for the kids who don't get to experience camping as a family. The kids who don't get to taste a S'more. That's why I make Indoor S'mores for my daycare. Everyone gets to experience the classic treat!
---
My heart goes out to the daycare provider in this story. This type of incident has always been a big fear of mine as a daycare operator. This woman has probably run an awesome business for years, but now she has a lot of problems and a lot of guilt to overcome.

I currently have a six month old infant in my care, so it brings all my fears back to the surface again.



---
Outdoor Activity: Blowing Bubbles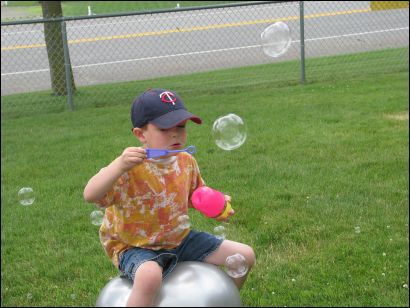 Blowing bubbles is always a kid's favorite to do while playing outside. Save some money by making your own bubbles. This recipe for homemade bubbles is easy to make by products you probably already have in the house.
---
I enjoy hearing from my website visitors, whether it's a question or a comment.

Jenn wants to know if it's within daycare policy that you pay for daycare the week your child did not attend daycare?

See my answer here

.

Keesha asked me if I have any tips for potty training her twin boys.

See my tips here

.



---
I found this website that is just filled with games for little kids. This site features indoor games, outdoor games, online games, party games and more. Take a look at Little Kids Games Online to see what you think.




Are you a Webmaster?

Send me the name of your website and if it is compatible with the topics of my newsletter, I will spotlight it for you.



---
If you enjoyed this issue of DaycareAnswers Newsletter, please feel free to share it with friends and family members.
If this newsletter was forwarded to you by a friend or family member and you'd like to subscribe to receive your own monthly issue, click here.
---
New!

Comments Have your say about what you just read! Leave me a comment in the box below.