I just added "Pin the Wattle on the Turkey" to the Thanksgiving Party page.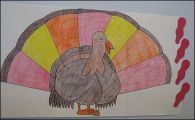 ---

Recipe: Pilgrim Hat Cookies

You can't get any easier than this, but these Pilgrim Hat Cookies are adorable on the Thanksgiving table.
---

I've Started a Facebook Group! If you are a daycare provider, I'd like to invite you to a Facebook Group I just started. It's always fun to join a group of people who are interested in the same things. Our group talks about things going on in our daycares, share recipes, share project ideas and anything else that comes up. Come join us today!
---
Thanksgiving Books for Kids
The best gift you can ever give a child is the love of reading. Here are my recommendations for some fun Thanksgiving books you can read to your kids.






---

Recipe Contest: Kid Friendly Dinner Recipes Do you like to enter contests? For this contest at DinnerMadeEasy.com, you enter your favorite kid friendly dinner recipe for a chance at the prize. And guess who the judge is? DinnerMadeEasy.com has asked ME to be the judge!
---

Are You a Webmaster? Send me the name of your website and if it is compatible with the topics of my newsletter, I will feature it for you.
---
If you enjoyed this issue of DaycareAnswers Newsletter, please feel free to share it with friends and family members.
If this newsletter was forwarded to you by a friend or family member and you'd like to subscribe to receive your own monthly issue, click here.
---
Please click here to join our fan page!

Click on the "like" button to become a fan of DaycareAnswers.com.
You can also follow us on Twitter:

New!

Comments Have your say about what you just read! Leave me a comment in the box below.