April, 2015 - Edition #141

Welcome.
Happy Provider Appreciation Day that is coming soon! This day is not well recognized by our daycare families and the general public, but make it a day for you to recognize yourself. Realize the difference you make in the lives of small children. Thank you for the priceless work that you do!

It's also spring. Time to spend more time outside enjoying the warm weather with the kids. I'll give you some ideas of outdoor activities in the next couple of newsletter.

Featured in this month's newsletter:
---
May 8th is Provider Appreciation Day. It's always the Friday before Mother's Day. Most providers know about his day of recognition, but most daycare families do not. Do not let your feelings get hurt if you don't get recognized by the families in your care. They probably just don't know about it.
Use this printable poster to let them know about your day of recognition.
Printable Appreciation Day Poster
---
I have an outdoor playhouse in the back yard that I've had for years. A couple of years ago, I decided to go on eBay and find the finds a box of used play dishes to use in their playhouse. It's one of the best buys I've ever made! They play with them non-stop on a daily basis when we are outside.
Outdoor Dish Set
---

For me growing up in the midwest, the first sign of seeing that winter was over was seeing my first robin of the season.
This project is easy to make and could very well be all materials you keep stocked in your craft cabinet.
Spring Craft Project: A Robin
---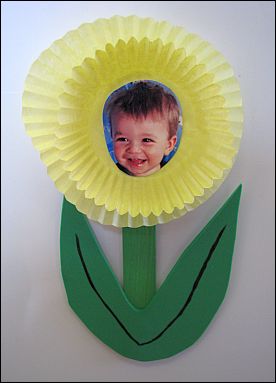 The photo magnet is this picture was made four years ago.

The little boy in the photo is still in my daycare and is five years old now. Seeing this is a sweet memory for me and I'm not even his mother. If I was, it would be a very special gift.




Get the directions for Cupcake Liner Photo Magnet here.

.
---

I have gathered a list of some of the most popular items you'll find in daycares for their outside play. I hope that this list helps you to decide which toys are best for your outside play.
Outdoor Products
---

If you enjoyed this issue of DaycareAnswers Newsletter and would like to take a look at previous month's newsletters, go to Newsletter Back Issues.
I'd also appreciate if you'd share this newsletter with a friend or a fellow daycare provider. Send them this link so they can sign up too!
Sign up for DaycareAnswers.com Newsletter
---