DaycareAnswers Home › Projects for Preschoolers › Mothers Day Projects
Mothers Day Projects for Preschoolers
These Mothers Day Projects for Preschoolers and Toddlers have been hand-picked as projects even the littlest hands can work on.
Handprint Wall Hanging
Each of my kids made this project when they were in kindergarten.  They are now grown adults and this project still hangs in our dining room.  It's very special memories!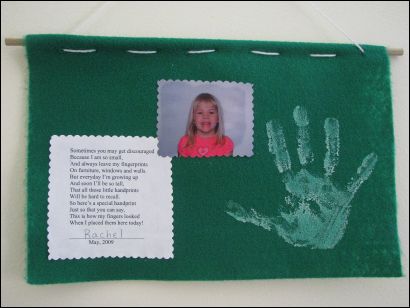 Supplies Needed:
Edging Scissors
9" x 12" Piece of felt (Color of your choice)
36" piece of yarn (Color that compliments the felt)
Paint brush
Photo of the child
13" dowel (1/4" in diameter)
Glue
Small Nail
Small paperclip
Print the Handprint Poem and cut out with edging scissors. Also cut the child's photo with the edging scissors.
Paint the child's hand with tempera paint and place the print on the felt. Let dry. Glue on the poem and the photo.
Use the small nail to poke holes along the top of the wallhanging. One row should be 1/2" down and one row at 1-1/2" down. Make the holes approximately 1" apart, but be sure the two rows line up to each other.
Use the small paperclip to make a tool that will allow you to lace the felt over the dowel and make the hanger for your wallhanging. Click here for more detail.
Your wall hanging is ready to go!
Return to Top of Mothers Day Projects for Preschoolers
Flower Photo Magnet


(Mothers Day Projects for Preschoolers)



Supplies Needed:

2 - Cupcake Liners
1 - Tongue Depressor
Green art foam sheet
1-1/2" square photo
Water color paints or markers
Elmer's glue
Hot glue gun
Paint brush
Magnetic tape
Directions:
Decorate the cupcake liners with watercolor paint or markers. Paint the tongue depressor with the green tempera paint. Cut leaf shape from the green art foam sheet.
To Assemble:
Flatten one cupcake liner completely. Fill the inner circle with Elmer's glue. Place the second cupcake liner on the first.
Using the hot glue gun, glue the cupcake liners to the top of the tongue depressor. Glue the child's photo in the center of the top cupcake liner. Glue the leaf shape onto the bottom of the tongue depressor.
Measure a strip of magnetic tape to fit the back of the flower and you have a refrigerator magnet.
Return to Top of Mothers Day Projects for Preschoolers
Want to Look Around Some More?...
DaycareAnswers Home

›
Projects for Preschoolers
› Mothers Day Projects
| | |
| --- | --- |
| | Marcia Reagan is the creator of DaycareAnswers and lives in Central Minnesota with her husband and two children.  She's been an in-home daycare provider for over twenty years and loves to share her experience and passion for daycare with other providers.   |