January, 2013 - Edition #130
Happy New Year, everybody!!!
We made it through the holidays. I don't know about you, but I was exhausted after making projects for Halloween, then Thanksgiving, then Christmas and finally New Years. I'm ready for the little bit of break we get before we have to start preparing for Valentine's day.
When you're ready to get started, I have a couple of great ideas for you to use with the kids.

---
Valentine Card Holder

Every year, I have the kids in my daycare exchange Valentines. Make this Valentine Card Holder for them to carry them all home.
Instructions for this "Valentine Card Holder"
---
A fun and inexpensive game to make yourself and play with the kids during a Valentine's Party. Kids love the memory game.
And I've never been able to figure out why, but when I play this game with the kids, they usually beat me at it!
How to make the Valentine Memory Game
---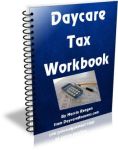 Is tax time a stressful time for you? The Daycare Tax Workbook is inexpensive and will help you get organized by leading you through everything you need to do to file your taxes.
Purchase your copy of the Daycare Tax Workbook here!
---

Where Can You Find DaycareAnswers.com


Visit my website at DaycareAnswers.com

Come on over to my Facebook Fan Page and "Like" me!

You can join the Daycare Provider Facebook Group and find some "co-workers" to chat with.

Or join the newest craze and follow my boards on Pinterest.
---

If you enjoyed this issue of DaycareAnswers Newsletter and would like to take a look at previous month's newsletters, go to Newsletter Back Issues.
I'd also appreciate if you'd share this newsletter with a friend or a fellow daycare provider. Send them this link so they can sign up too!
Sign up for DaycareAnswers.com Newsletter
---