June brings us Father's Day. And I know from personal experience that Dad's feel slighted when you compare the importance of Father's Day to Mother's Day. So I've given directions for a very cute Father's Day gift for the kids to make for Dad.

Plus, an easy-to-make summer pasta salad that is kid-friendly!

---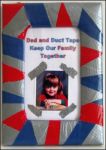 Craft Project: Duct Tape Picture Frame
This adorable picture frame is easy to make and easy for the kids to wrap later. Dad will love it!
Duct Tape Picture Frame
---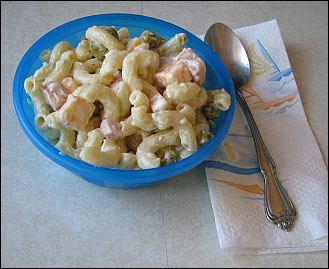 In my experience, some kids like pasta salad and some kids just don't. But for those kids who do, here is a simple, summertime pasta salad. The recipe is a big batch, but I have several kids who like pasta salad.
Recipe for Ham and Pasta Salad
---

Join the Daycare Provider Facebook Group
Kim from Valley Springs, California asked:
"At what point do you all worry about your daycare not being full?"
One of several responses was:
"I try not to worry because when I do I end up taking a family I regret because I'm thinking money not good fit..."
Come join our group and get in on the good conversation!
Daycare Provider Facebook Group
---

Q&A: "How Do You Get Kids To Eat?" This is an e-mail I received from Kristena:
The article that you wrote about your own son being the naughtiest child in your day care really touched my heart. I have just recently opened a child care in our home and am experiencing this exact scenerio.
We too have a fairly small house, and the daycare children have to use his room during nap time. It definitely is an ongoing battle, but it gives me immeasurable comfort to know I'm not the only one who has gone through it.
If you'd like to read the article Kristena is referring to, it's right here!
"Naughtiest Kid in Daycare"

If you enjoyed this issue of DaycareAnswers Newsletter, please feel free to share it with friends and family members.
If this newsletter was forwarded to you by a friend or family member and you'd like to subscribe to receive your own monthly issue, click here.
---
Please click here to join our fan page!

Click on the "like" button to become a fan of DaycareAnswers.com.
You can also follow us on Twitter:

New!

Comments Have your say about what you just read! Leave me a comment in the box below.