Happy Spring! Hopefully it's here to stay now.

May brings us Mother's Day, so I've got a good idea for the kids to make as a Mother's Day gift for mom or grandma. And with the weather getting nice, we'll be spending more time outside. I've provided one recipe for a snack on-the-run and one recipe for backyard play.

---
Craft Project: Handprint Wall Hanging

Mother's Day is coming up on Sunday, May 8th. This Handprint Wall Hanging makes the perfect Mother's Day gift.
It also makes a great, personal gift for Grandma on Mother's Day!
Directions for Handprint Wall Hanging
---
Summertime means a lot more time on-the-go. My trail mix recipe makes a great snack around the table or you can throw some in a ziplock bag for at the park or at a ball game.
Recipe for Healthy Trail Mix
---

Activity: Outdoor Play -- Bubble Blowing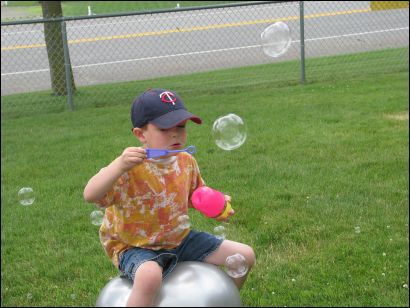 A great way to entertain the kids outside is to provide them with lots of bubble blowing equipment. Use this recipe for the bubble solution. It's easy to make and blows great bubbles!
Recipe for Homemade Bubble Solution
---

Join the Daycare Provider Facebook Group
The Daycare Provider Facebook Group is growing! We have new providers joining all the time. It's nice to chat with like-minded professionals who are interested in the same things and experiencing the same things you are. Come and check us out. We talk about what's going on in our daycares, share recipes, share project ideas and anything else that comes up.
Daycare Provider Facebook Group
---

Q&A: "How Do You Get Kids To Eat?"
"Hungry Momma" wrote to me and asked how I get picky eaters to eat. She's tired of eating the same macaroni and cheese, hot dogs and chips for every meal.
Read the advice I give to persuade kids to eat healthier.
"Picky Eaters: How Do You Feed Them?"

If you enjoyed this issue of DaycareAnswers Newsletter, please feel free to share it with friends and family members.
If this newsletter was forwarded to you by a friend or family member and you'd like to subscribe to receive your own monthly issue, click here.
---
Please click here to join our fan page!

Click on the "like" button to become a fan of DaycareAnswers.com.
You can also follow us on Twitter:

New!

Comments Have your say about what you just read! Leave me a comment in the box below.