In 1620, the Pilgrims sailed on a ship called the Mayflower and arrived at Plymouth Rock to find what they called "The New World".
It's so important to teach the young children you care for what Thanksgiving is and how to appreciate it. For an easy-to-understand explanation of Thanksgiving that you can share with the kids, read The History of Thanksgiving.
I'm sharing a fun game to play and a great craft to make with the kids. And more!

---
Candy Corn Relay

Play some fun Thanksgiving games before you send the kids home to spend the holiday with their families. This Candy Corn Relay game is appropriate for all age groups and any number of kids.
Rules for the Candy Corn Relay
---
I, personally, don't think you can have too many handprint projects. I love to look at those chubby little hands! This Handprint Turkey is a great way to preserve the memories of when the children are young.
Directions for a Handprint Turkey
---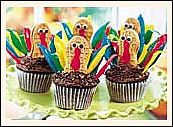 Have yourself another Nutter Butter Peanut Butter sandwich cookie!
These cookies are the perfect shape for the turkey body in these adorable cupcakes.
Get directions to make a Nutter Butter Turkey Cupcake here.
---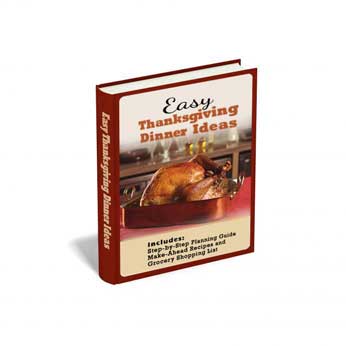 Thanksgiving e-Book
If you are the one is charge of planning and cooking the Thanksgiving feast, then I have discovered the e-Book for you! This 31-page e-Book provides you with a schedule to prep the entire week before Thanksgiving, recipes and a shopping list. It even provides you with activities to keep the kids busy while you're preparing the meal. The price is definitely worth the information you receive.

Get Easy Thanksgiving Dinner Ideas now!



---
Win a Designer Handbag
I just had to share this contest that I found. Who wouldn't want to win a free handbag, right? Maybe a nice Christmas present to yourself.

The women who are putting this contest on are Marcia and Kathy. And although I'd like to be that Marcia and have access to all these beautiful bags, it unfortunately is not me. I will be entering the contest though!

Enter the Bellisima Handbag Contest here.



---

If you enjoyed this issue of DaycareAnswers Newsletter and would like to take a look at previous month's newsletters, go to Newsletter Back Issues.
---
Please click here to join our fan page!

Click on the "like" button to become a fan of DaycareAnswers.com.
You can also follow us on Twitter:

New!

Comments Have your say about what you just read! Leave me a comment in the box below.