Here's what you'll find in this month's issue:

---
Welcome to the Halloween edition of the DaycareAnswers.com Newsletter. A special welcome to all the new subscribers. Every day, a new subscriber signs up for this newsletter. That is awesome and I'm so glad you signed up. I want my newsletter to provide you with fresh ideas for craft projects to do with the kids, new recipes to try, plus share interesting or funny stories. When I come across an interesting website, a book or a music CD that I found on the internet, I'll share that with you too.
I'd also love to hear from you. Please feel free to share a story, a recipe, a project or an interesting website. Anything you'd like to pass along can be sent to marciar981@aol.com
---

Halloween is Coming! In just a few short weeks, Halloween will be here.

I think for me personally, Halloween can be considered my favorite holiday. My kids have outgrown the halloween costume stage, but I used to love asking them what they wanted to be and then making that happen. I love answering the door when those adorable trick-or-treaters ring the doorbell. And every year, I plan a Halloween Party for my daycare kids. The anticipation of having a party and wearing their costumes to daycare is so much fun to see.
Start planning now for a Kids Halloween Party. Weather it's for your own kids or daycare kids, pre-planning is the key!
---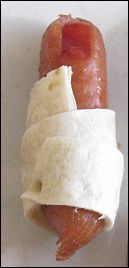 Recipe: Monster Toes
Monster toes are an awesome lunch idea for the kids on Halloween. But be careful! Some kids will be so grossed out, they will not eat their lunch.
Here is the recipe for Monster Toes.
---
Craft Project: Black Cat Candy Tin
I like to send the kids home from the Halloween Party with a treat. With this Black Cat Candy Tin, I have created a project for the kids to do the week before Halloween. Then, I fill it with candy and send it home as a party favor!
---
I've used this Kidz Bop Halloween music CD in my daycare for several years now. I start playing it in early October and by the time I have my Halloween Party, the kids know the words to all the songs! I found it at a local department store.




Or, it's available at Amazon.com
---
Are you a Webmaster?
Send me the name of your website and if it is compatible with the topics of my newsletter, I will spotlight it for you.
---
If you enjoyed this issue of DaycareAnswers Newsletter, please feel free to share it with friends and family members.
If this newsletter was forwarded to you by a friend or family member and you'd like to subscribe to receive your own monthly issue, click here.
---
Please click here to join our new fan page!

Click on the "like" button to become a fan of DaycareAnswers.com.
You can also follow us on Twitter:

New!

Comments Have your say about what you just read! Leave me a comment in the box below.