DaycareAnswers Home › Kid Party Ideas › Halloween Party for Kids
Halloween Party for Kids

Whether you're planning a Halloween Party for Kids for your daycare, your own children and their friends or maybe your child's classroom at school, these easy-to-do ideas will make your party a success!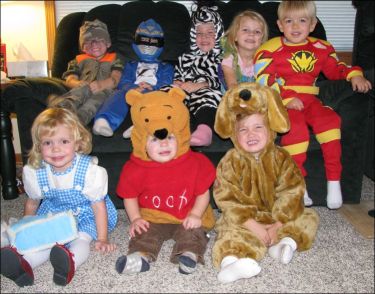 Halloween Games and Activities
Halloween Party Food and Drinks
Games & Activities for a Halloween Party for Kids
Body Parts Mystery Box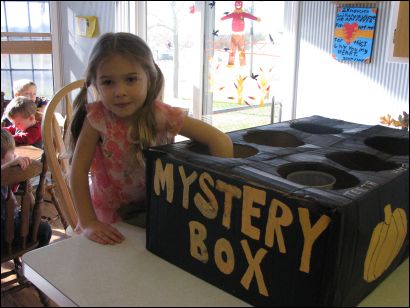 Find a cardboard box that is approximately 6-8 inches high. The length depends on how many mystery items you would like to place in the box. I would suggest four to eight items.
Decorate the box any way you'd like. Cut holes in the top of the box for the children to reach their hands into. Label each hole with what the contents are. Use Cool Whip containers or something similar to hold your mystery items.
Mystery Item Ideas: Use any or all these ideas.
Eyeballs: peeled grapes or olives
Tongue: banana peel or canned green chili (whole)
Intestines: spaghetti (with a splash of vegetable oil to keep them flexible)
Teeth: candy corn, corn nuts or broken pieces of chalk
Fingers: cocktail wieners (cut off one end)
Bones: chicken bones, cleaned and dried
Hair: bean sprouts or wet yarn
Heart: peach half (canned)
Ear: dried apricot
Skin: square cut from a flour tortilla, brushed with oil
Brain: large wet sponge
Witches Hand
A fast and easy project for the kids to make during the party!
Supplies Needed:

Vinyl gloves
Candy corn
Puffed Popcorn

Place a piece of candy corn in each finger tip of the glove to represent finger nails.

Fill the rest of the glove with puffed popcorn. You may have to break the popcorn into pieces to fit into the fingers of the glove.
Tie the end of the glove with a rubber band. You now have a witches hand!
Pin the Nose on the
Jack 'o Lantern
Draw and color a pumpkin on a large sheet of paper. Draw a face on the pumpkin to make a Jack 'o Lantern, excluding the nose. Tape the Jack 'o Lantern to a wall or door at chest level to the children.
Make noses out of construction paper for each child. Place double stick tape on the back of each nose.
Have one child at a time stand approximately six feet from the Jack 'o Lantern. Cover the child's eyes with a bandana, soft towel or scarf. Turn the child three times and then face them in the direction of the Jack 'o Lantern. The child tries to place the nose as close to the correct spot as they can. The child who comes closest wins the game.
Halloween Candy Toss
The target is a plastic trick-or-treat bucket such as a pumpkin shaped bucket. Set a line with masking tape approximately six feet from the bucket. Set the line to be age appropriate.

Give a child approximately five pieces of candy and see how many they can toss into the bucket.

Have a prize available for the winner.



Halloween Coloring Sheets
I have coloring sheets ready for every occasion.  Whenever I need a little time to prepare the meal or the next activity and I need the kids to stay busy, I pull out the coloring sheets.  Since it's a holiday, I'll even pull our markers or watercolor paints instead of the normal crayons and colored pencils. 

Halloween Coloring Pages #1
or
Halloween Coloring Pages #2
Halloween Craft Projects
You can choose to make a craft during your Halloween Party for Kids. 

You'll want to plan ahead and have all the prep work done for an easy activity during your party.




Return to Top of Halloween Party for Kids
Halloween Party Food for Kids
Every good party needs great food! I have discovered some awesome recipes to add to the fun of your Halloween Party.

Some of the recipes are time consuming, but provide a lot of fun.  Others are quick to prepare if you're short on time.

Just for Laughs and Giggles at a Halloween Party for Kids
"Knock, Knock"
     "Who's there?"
          "Wanda"
               "Wanda who?"
                    "Wanda ride on my broomstick?

Q. What instrument does a skeleton play?
          A. A trom-BONE
Q. Why did Dracula take cold medicine?
          A. To stop his coffin
"Knock, Knock"
     "Who's there?"
          "Witch"
               "Witch who?"
                    "God Bless You!"

Q. What kind of makeup do ghosts use?
          A. Mas-"scare"-a
Q. What is a ghost's favorite drink?
          A. Ghoul-aid
Q. What street does a ghost live on?
          A. A dead end!
Q. What type of music does a mummy like?
          A. Wrap!
Q. How do you mend a broken jack-o-lantern
          A. With a pumpkin patch!
Q. What do witches call for in a hotel room?
A. Broom service!
Want to Look Around Some More?...
DaycareAnswers Home

›
Kid Party Ideas
› Halloween Party for Kids
| | |
| --- | --- |
| | Marcia Reagan is the creator of DaycareAnswers and lives in Central Minnesota with her husband and two children.  She's been an in-home daycare provider for over twenty years and loves to share her experience and passion for daycare with other providers.   |