Halloween is my favorite holiday! It could be because my birthday is just days before and when I was a kid the school often celebrated Halloween on my birthday. Everyone had a party for me!
It could also be because of those adorable kids who ring my doorbell and holler "Twick or Tweet"! I just love seeing kids dressed up in their costumes.
I have some fun Halloween things to share with you!

---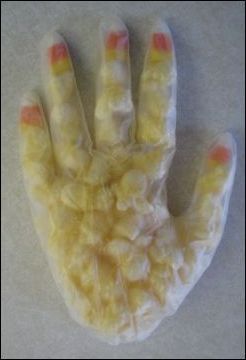 Witches Hand
This Halloween project is super easy, but so darn cute when you're done. Be sure to have extra popcorn and candy corn so that the kids can snitch while they're making the project!
Directions for Witches Hand
---

Recipe: English Muffin Mummies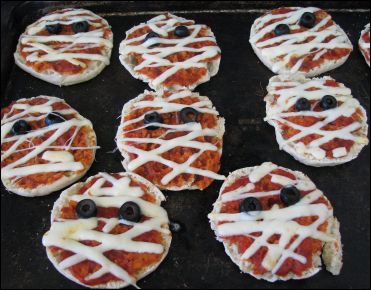 Don't scare the kids away from the lunch table! This miniature pizzas that look like scary mummies are sure to be a hit.
Recipe for English Muffin Mummy
---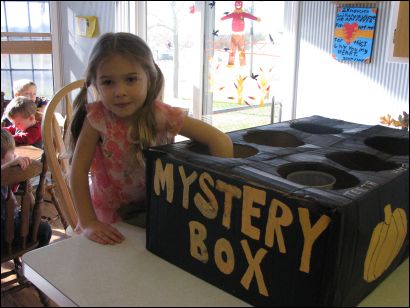 You have to be careful with the scare value of things you do in daycare so that you don't scare the little ones TOO much.
A Body Parts Mystery Box is a good alternative to a haunted house. You give the kids the idea of what creepy is without scaring them.
Get directions to make a Body Part Mystery Box here.
---
Halloween Music
My absolute favorite CD to play for the kids this time of year is Kidz Bop Halloween Party! I start playing it in the kitchen on the 1st of October and play it all month long. I also play it on Halloween night for the kids who are coming to my door to trick-or-treat.
Get your copy of Kidz Bop Halloween Party from Amazon.com here.
---

If you enjoyed this issue of DaycareAnswers Newsletter, please feel free to share it with friends and family members.
If this newsletter was forwarded to you by a friend or family member and you'd like to subscribe to receive your own monthly issue, click here.
---
Please click here to join our fan page!

Click on the "like" button to become a fan of DaycareAnswers.com.
You can also follow us on Twitter:

New!

Comments Have your say about what you just read! Leave me a comment in the box below.