June, 2014 - Edition #136

Hmmm...what's going on in the month of June? Well, on June 14th we have Flag Day. I'm sharing a cute red, white and blue craft called Stars and Stripes. On June 16th, we're celebrating Father's Day. Dad gets the award. Make a trophy out of to-go coffee cups as the kids' gift to dad. Plus, I share a summer recipe that requires no cooking and a good tip for when taking the children outside.

Featured in this month's newsletter:
---

Flag Day is June 14th. This Stars and Stripes project represents our pride of the American Flag.
Find directions for Stars and Stripes
---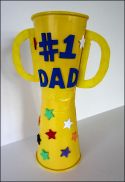 The second celebration for June comes on the 16th. It's Father's Day! I always find it much easier to come up with something to make for mom. It's a bit harder for dad. These trophies made out of to-go coffee cups turned out perfect!
Get the instructions for the Fathers Day Trophy
---
When the weather gets hot, I don't like to turn the oven on to make lunch. Once the kitchen heats up, it just doesn't cool down again. Ham and Cheese Kabobs are a fun, good tasting lunch option that requires no cooking.
Find out how to make Ham and Cheese Kabobs.
---

A Grab and Go Outdoor Bag is packed up with everything you may need for supplies when you and the kids are outside.
I've been a daycare provider for 19 years now. I knew enough to have a bag packed up if I was leaving the house with the kids, but never thought to have one ready to take to the back yard each day when the kids go outside to play. It's a great idea!
Find out what to pack in a Grab and Go Outdoor Bag
---

If you enjoyed this issue of DaycareAnswers Newsletter and would like to take a look at previous month's newsletters, go to Newsletter Back Issues.
I'd also appreciate if you'd share this newsletter with a friend or a fellow daycare provider. Send them this link so they can sign up too!
Sign up for DaycareAnswers.com Newsletter
---