Home › Projects for Preschoolers › Patriotic Projects for Preschoolers
Patriotic Projects for Preschoolers

Patriotic Project for Preschoolers can be used for July 4th, Flag Day, President's Day and Memorial Day.  Just like all the projects on this site, these projects are designed to be made by little hands!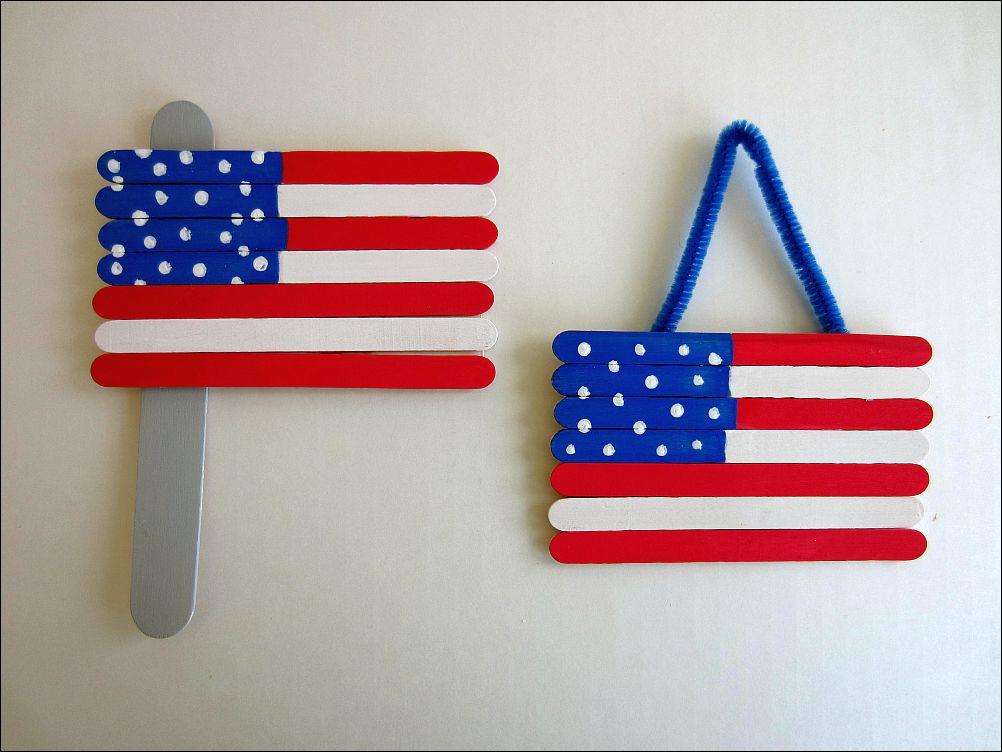 Patriotic Projects for Preschoolers Table of Contents
Craft Stick American Flag
Supplies:

7 small craft sticks

Large craft stick or pipe cleaner
Red, White and Blue Tempera paint
Paint brushes
Thin cardboard, 4" x 2-1/2" rectangle
Wood glue
Unsharpened pencil



Directions:
Paint the small craft sticks. You will need 2 sticks painted red, 1 stick painted white, 2 sticks half red and half blue and 2 sticks half white and half blue. Let dry.
If you choose to put your flag on a large craft stick, paint the stick grey.
Use the eraser on the unsharpened pencil to dip in white paint to make stars on your flag
Glue the sticks to the thin cardboard by following the picture here for a pattern. Either attach the large craft stick or the pipe cleaner.
Stars and Stripes

Supplies:

Red, White and Blue Construction Paper
Blue Tempera Paint
Star Shaped Cookie Cutter
Paint Brush
Scissors
Glue Stick
Ruler




Directions:
Start with a sheet of white construction paper.  Cut 1" off of both the short side and the long side of the paper.  Next, cut 1/2-inch strips of red construction paper.  Each child will need 10 strips.  Provide the child with a glue stick and let them glue the red strips onto the white paper.  Trim the edges.

Use the blue tempera paint and a cookie cutter to make as many stars on the paper as you'd like.  Let dry.  (Next, I used a pencil to draw a smaller star inside the cookie cutter star to give the kids an outline to fill in.)  Paint the inside of the stars blue, leaving a gap between the painted star and the cookie cutter star. 

Now, glue the stars and stripes onto a full-sized piece of blue construction paper to frame it out. 

Want to Look Around Some More?...

Home

›
Projects for Preschoolers
› Patriotic Projects for Preschoolers
| | |
| --- | --- |
| | Marcia Reagan is the creator of DaycareAnswers and lives in Central Minnesota with her husband and two children.  She's been an in-home daycare provider for over twenty years and loves to share her experience and passion for daycare with other providers.   |