DaycareAnswers Home › About Me
Hello. I'm Marcia Reagan, creator and author of DaycareAnswers.com.  I'd like to tell you About Me!
To share a little bit about myself, I've been HAPPILY married to the love of my life, Mike, for 34 years. I stress "happily" because I could not have found a better person to choose to spend the rest of my life with. Mike has been a good marriage partner, but he has also been an exceptional father and a great support when I decided to start my own in-home daycare business. I would not have been as successful on my journey if I didn't have Mike right beside me.
I have two children, Shawn (30) and Jenny (28). I am basically done "parenting" my children, but you're never done being a parent. I love being a mother and enjoyed every stage my children went through as they were growing up. They are now adults that Mike and I are very,very proud of. We receive comments from family, friends and even strangers about what neat kids we have so we know we did something right!
Return to Top of the About Me Page
---
Being a Daycare Provider | This Website | The Future | Thank You
---

Being a Daycare Provider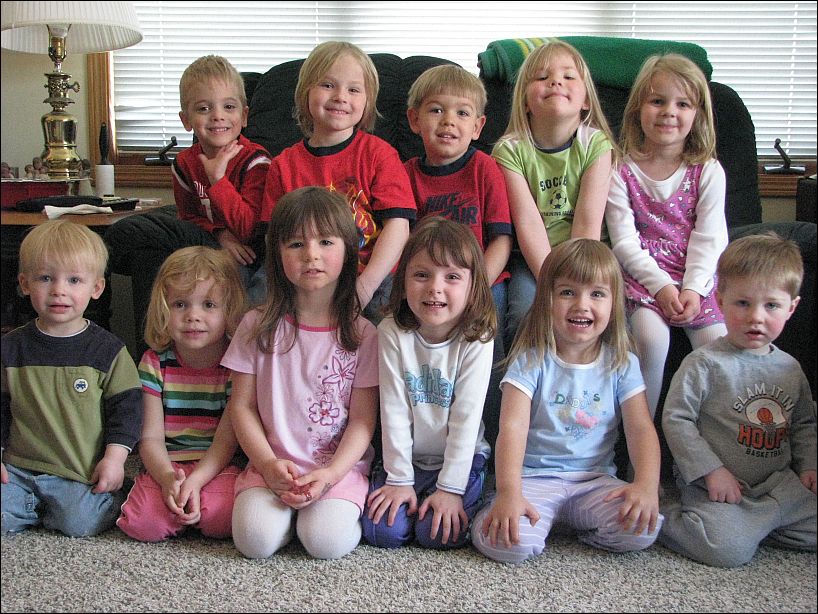 I knew I wanted to become a daycare provider as soon as I got married, but it took until my second child was born to get all the logistics worked out. I opened my in-home daycare business in June, 1995 while I was on maternity leave with Jenny. I have now been a daycare provider for 28 years.
Over 100 kids have come through my door in those 28 years. It hasn't been all fun and games, but I definitely know I chose the career that was meant for me. I am confident that I touch the lives of the children who spend time in my daycare in a very special way. And when I touch their lives, I touch the lives of everyone they come in contact with. That is a great feeling!
In all these years of being a provider, I've had several kids enroll in daycare who have some behavioral issues. Some have been health related, but many times it's because the parents lack the knowledge needed to be able to raise a well-adjusted child. These children change after just a few short weeks in my care. I love hearing the nice comments I receive from the parents of the other children when they start seeing the "magic" work with the new kids. This "magic" is why I decided to start a website for daycare providers.
Return to Top of the About Me Page
---
About This Website


For years, as my husband witnessed the ability I had caring for children, he pestered me to write a book or become a public speaker to share this gift that I had. I didn't know anything about writing a book and a major case of stage-fright kept me from becoming a public speaker.
One summer, in a casual conversation with a neighbor, we were introduced to the idea of starting a website. Mike started the whole process, but it soon became my baby and DaycareAnswers.com was born. I finally had a platform to share all that I knew and all that I had learned from being a provider for so many years!
I like sharing all the little secrets you learn with experience. Maybe I can save a newbie some frustration. I also like sharing recipes, activities, craft projects and anything else that makes the day-to-day life of a daycare provider just a little bit easier. For years, I have heard that being a mother is the hardest job on earth. Well, there is one job that's harder. Being a daycare provider IS the hardest job on earth!
Return to Top of the About Me Page
---

The Future


I'm 58 years old and I've been a provider for 28 years, so my future is looking towards retirement. This website is serving as my retirement plan.
Many people don't understand how you can make money on a website, so I'll explain that first. The easiest way to make money is by putting Google Ads on your site. You've all seen them when you've looked at a website, right? Every time a visitor clicks on one of those ads, the site owner receives anywhere from a few cents to a few dollars just for the click. You can visit just about any page of my site to see Google Ads. For just one example, visit the Daycare Provider page.
Another source of income is affiliate sales. As a site owner, you sign up to be an affiliate for merchants on the internet. You place their products on your site and if your visitors purchase one of those products, you get an agreed upon percentage of the sale as commission. I sell affiliate products on my Gift Ideas for Daycare Providers page.
A third way to make income from your website is to sell your own products. It could be a product that you make or it could be an e-book that you wrote. When you sell your own product, you are not sharing any of the profit with anyone else, so this is the most profitable source of income. I am currently selling Sample Daycare Menu e-books and a Daycare Tax Workbook.
I make money from all three of these sources.
When Mike and I decided to start a website, he started his normal routine of investigating into the best path to take. I'm not kidding when I tell you he is the King of Research. He researches every purchase we make and every place we travel too. He enjoys it and is good at it. So, when doing his research for a hosting company for our future website he came across a good one. It's call SBI (Site Build It). SBI made it easy for beginners like us to produce a website that could be seen on the internet.
We knew nothing about building a website. SBI has a system they call block building. And just like little kids using building blocks to make a tall, tall tower, you can use blocks to build a website. It's not a get-rich-quick plan. You won't start making money next week. It does take work. If you're willing to find a subject that you're passionate about and put work into sharing the information, you will be building a future for yourself.
If you're interested in looking at a website for yourself, visit SBI, also known as SiteSell. They have a lot of information to look at just to see if it's the right pick for you.
Return to Top of the About Me Page
---

Thank You

Thank you for visiting DaycareAnswers.com. Please bookmark this site so that you can come back and visit often. I am constantly adding new content so there is always new things for you to look at.
A big downfall of being a daycare provider is that you are at home all by yourself, with no adults to talk to. If you'd like to find a network of providers so you still have co-workers, come check out my Facebook group called Daycare Providers. We're like-minded people who like to share, laugh and chat!
I would also love it if you'd "Like" my Facebook Business Page. When you push that "Like" button, you're getting all the latest news from DaycareAnswers.com.
I hope your visit to this site makes your job as a daycare provider a little bit easier.
                                                   All my best!

Return to Top of the About Me Page
DaycareAnswers Home › About Me