DaycareAnswers Home › Daycare Tshirts
Daycare Tshirts
I love wearing t-shirts with daycare related sayings.  And since I've been in the business for 20 years now, I have quite a large selection of them.
Daycare t-shirts makes it easy!  I don't have to worry about what to wear.  I can just grab a t-shirt.  I also don't have to worry about staining and ruining a favorite outfit.  
I have some that I like to wear out in public, too.  It's a creative way to let people know I'm a provider without having a direct ad on the shirt.   

If you choose to buy a t-shirt today, I do receive a small percentage of the sale which allows me to keep this site's content on the internet for free. Thank you for your support!
All of these t-shirts are available for sale on Amazon.  They are made in a man or a woman's style t-shirt and come in a variety of colors.
---
Our Most Popular T-shirt
---
"Today's Goal: To Keep the
Tiny Humans Alive"
It's a good goal, right?  Actually, we do much more than just keep them alive, but it's okay to get a good laugh from this t-shirt.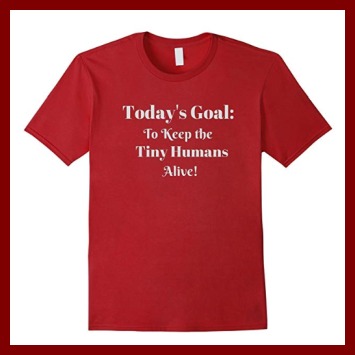 ---
Other Top Sellers
---
"I'm a Daycare/Childcare Provider.  What's Your Super Power?"

People often say, "How do you do it?" when they find out I take care of twelve kids per day.  I should answer with, "I have Super Powers!"
"Keep Calm and Let the Daycare/Childcare Provider Take Care Of It!
Who better to stay calm and get the job done?
"Satisfaction Guaranteed
...or Double Your Kids Back"
You're guaranteed to get a reaction when you where this t-shirt.  Everyone wants a guarantee, but maybe not this one!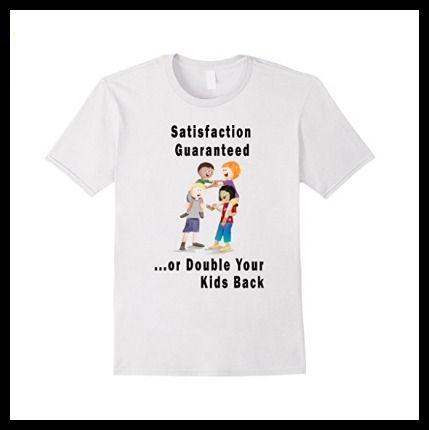 I like this license plate style design to wear out in public.  It let's people know what I do and maybe gain some clientele.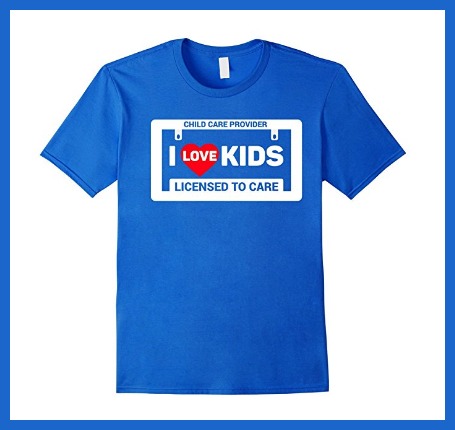 ---
Newest Designs
---
"Childcare is Like Chocolate.
Quality Counts!"
Good chocolate...Good Provider...Easily relatable!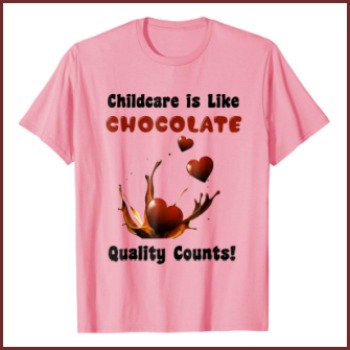 ---
"My Work is Child's Play"
A play on words.  Get it?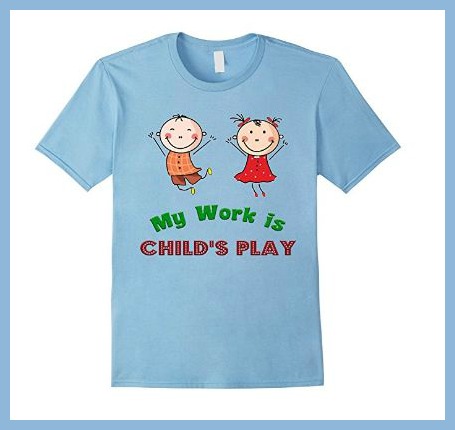 ---
"Tough Enough to be a Provider.
 Crazy Enough to Love It!"
There's not very many professions that take a tougher person than a daycare/childcare provider.  It requires stamina.  But it also requires a little crazy!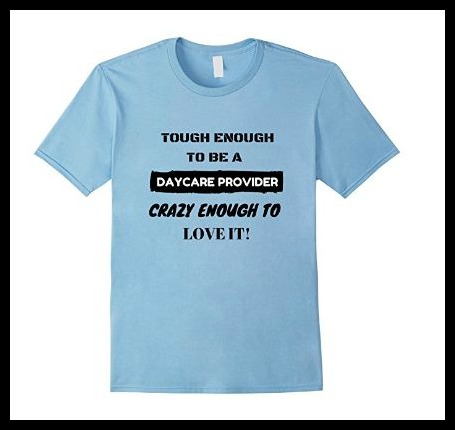 ---
"I'm Not a Super Hero.  But I'm a Daycare Provider, So Close Enough!"
Yup!  Just like a super hero!  

---
| | |
| --- | --- |
| | Marcia Reagan is the creator of DaycareAnswers and lives in Central Minnesota with her husband and two children.  She's been an in-home daycare provider for over twenty years and loves to share her experience and passion for daycare with other providers.   |