DaycareAnswers Home › Free Daycare Forms › Daycare Contracts
Daycare Contracts


Daycare contracts set up the rules and policies of your daycare.  A contract is given to a family as they enroll their child in your daycare. 
The contract is the backbone of your business.  Take time to make a well-written contract that will keep your daycare professional and efficient.

My Contract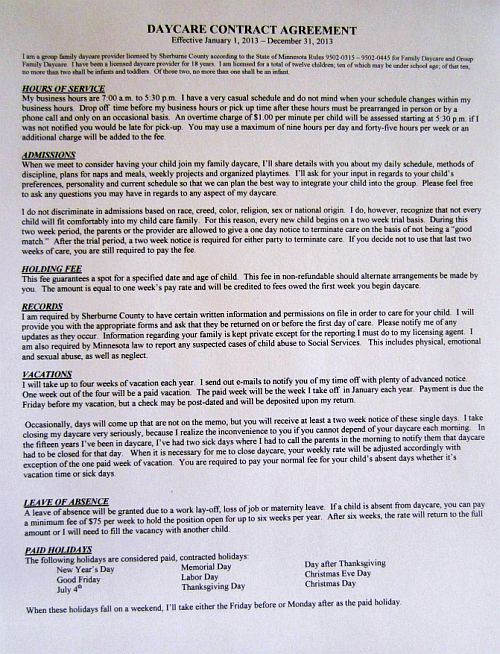 The contract that I started my business with 18 years ago was copied from a friend who had her own in-home daycare.  She gave me permission to copy her contract.
That's how I started, but every year since then, I have reviewed that contract and made the changes necessary to protect me and improve my business.   
See My Contract here!
Write Your Own Daycare Contract

You can write your own daycare contract.  Here are some guidelines as to what should be included in your contract:

Check with your licensing agency for requirements specific to your county, state or province.
Typical daily schedule, including meal times and nap schedule

Ages and number of children licensed for
Hours of operation
Drop off/Pick up Policy
Late Payment Policy
Bounced Check Policy
Your vacation/sick days
Sick Child Policy
Leave of Absence Policy
Supplies you require families to provide
Transportation Policy
Extra fees charged, such as registration, holding fee or activity fee.
Emergency back-up provider
Training Record
Termination Policy
Trial enrollment, if applicable
Insurance coverage
Any pets present
Smoking Policy
Include the following on the signature page:
The family's name
Your full name and business name, if you have one
Contact phone numbers for client

E-mail address for client

Fees charged specifically for this family
Hours agreed upon
Start date
End date, if applicable
Parents signatures
Your signature
Date contract is signed
My suggestion is to write up a contract, plus read other providers contracts to be sure you've included everything needed.  Adopt ideas you come across that will work well in your daycare.
Enforce Your Contract

A natural personality trait of daycare providers is to be the "nice guy" and try to help everyone you can.  That doesn't work when you are running a daycare business.
You spend a lot of time with the families that enroll in your daycare.  It's natural to become "friends" with these families.  Be careful.  Once you become friends with them, it's hard to enforce the rules you put in place.  As their friend, parents will expect you to bend your rules and make exceptions for them all the time.
Keep your relationship on a professional level right from the start so that you're always able to enforce your contract.
Pick and Choose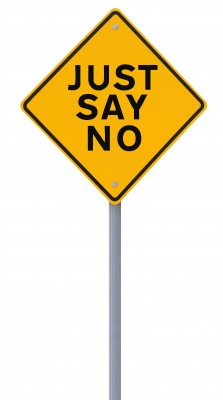 The best advice I can give you is "Don't take relatives, friends, neighbors or your spouse's co-workers as clients!"
There's two reasons for this advice.  One, is that you most likely already have a friendly relationship with these people and I've already told you that it's hard to enforce your contract when you're friends with the client. 
The second reason is that if a problem arises, tempers flare and they either leave your daycare or you terminate them, it makes a very awkward situation to have to face them in other situations.  I've heard providers say all the time, "They are such good friends.  Nothing could ruin our relationship."  Oh yeah?  Come back and talk to me in six months!  It's easier to not take them as clients to start with than to live with the frustration that will build when things go awry.
Return to Top of Daycare Contracts
Want to Look Around Some More?...
DaycareAnswers Home

›
Free Daycare Forms
› Daycare Contracts
| | |
| --- | --- |
| | Marcia Reagan is the creator of DaycareAnswers and lives in Central Minnesota with her husband and two children.  She's been an in-home daycare provider for over twenty years and loves to share her experience and passion for daycare with other providers.   |