DaycareAnswers Home › Feeding a Picky Eater
Feeding a Picky Eater
Do's and Don'ts

My Top Ten List

(Plus, the Really BIG Secret to Feeding a Picky Eater!)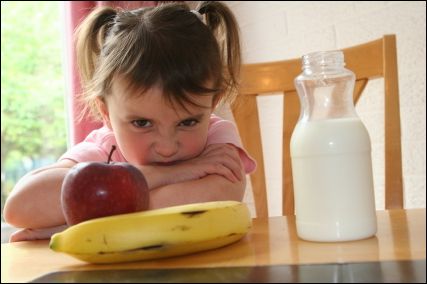 What makes a kid become a picky eater can be one of several different factors. It could be that they are just going through a period of time when the taste of food doesn't please them. It may be the smell of the food that bothers them. A lot of kids are affected by the different textures of foods. And then there are the kids who are influenced by the role model in their life who does not eat well-balanced meals. And lastly, it could simply be a power struggle because they don't want anybody telling them what they have to eat and when to eat it.
Regardless of how they've become a picky eater, you still have to figure out how to feed them.
The Do's of Feeding a Picky Eater:


Keep mealtime as a casual fun time. 
Starting at about a year old, kids will start deciding what they want to eat and don't want to eat. When they start making this decision, it's important for you to keep encouraging healthy and nutritious meals while keeping a pleasant atmosphere.
Be a good role model.
Your kids are watching you whether you realize it or not. If you don't eat fruits and vegetables with your meals, the kids will notice. Be sure to have meals when the entire family is sitting together eating a well-balanced menu.
Let the child help shop for the food and prepare the food.
The food will always taste better to the child if they we're involved in purchasing and fixing the meal. Let them help grab the items of the grocery shelves when they can reach them. Give them small duties during preparation time to make them feel included.
Offer some choices when appropriate.
At snack time, offer two different healthy snacks they can choose from. At mealtime, let your child pick which vegetable will be served. They will feel like they have some control over the meal. This doesn't mean they always have to have a choice. Just give them a choice sometimes.
Offer age-appropriate foods.
Your child may not want to eat exotic foods and that's okay. Offer them food appropriate for their age, but make sure their menu stays healthier than chicken nuggets, fish sticks and peanut butter & jelly every day.
Serve small portions.
It's easier for a child to try a new food and eat a food they don't really enjoy if the serving is small. If they learn to eat the small serving, you can increase it over time.
Introduce new foods slowly.
When you're feeding a picky eater, introduce one new food per week. When you serve the new food, include it in a meal when the child likes everything else being served.
Hide some of the healthy stuff.
Some recipes can include vegetables that are cut up into tiny pieces that your child won't even notice, but they're still receiving the nutritional value from them.
Let them use condiments.
If they have to learn to eat something by covering it with ketchup or another condiment, let them. Over time they will cut down on the ketchup and eventually not use it at all.
Praise them for a job-well-done.
Always let them know that you are proud of them for eating everything that was served!
Return to Top of Feeding a Picky Eater
The Don'ts of Feeding a Picky Eater:
Don't force foods.
You don't want eating to become a power struggle. When you're feeding a picky eater, encourage kids to eat healthy food, but do not force them to eat a certain item. The more you say "Eat it", the more they'll say "No!"
Don't allow them to eat the same food every meal.
When a child starts getting picky about what they are going to eat, their menu gets smaller and smaller. It's easy to fall into the trap of ending up with only one menu item left on their list and the child insisting on eating that for every single meal. Start early by allowing their favorite menu items only once a week.
Don't become a short order cook.
You want to teach your child to eat the same meals the rest of the family is. Don't give in to the whining of not liking a meal by cooking something special for the picky eater.
Don't let them snack in between meals.
Kids will be better eaters if they are hungry at meal time. Monitor the amount of snacking between meals. If they quit eating meals because they don't like what's served, quit serving snacks. They really don't NEED them.
Don't allow T.V. or toys during meal time.
Meal time should be for eating. If you allow a child to have distractions while they should be eating, they develop very bad habits.
Don't reward day-to-day behavior with food.
For a child who is struggling to eat their food at meal time, food should be kept at the meal only. If you're rewarding behavior with food, the child will know that they don't have to eat now and be sure that a treat or reward will be coming soon.
Don't punish them if they don't eat the food.
A child should not be punished for not eating. You don't want to turn eating and meal time into a fear factor.
Don't get stressed out over eating.
It's easy to get stressed out when trying to persuade a child to do what's right. Take a deep breath, count to ten and try again tomorrow. If you bring stress to the table, the child will feel it and get stressed also.
Don't give the kid all the control.
Like I've said many times, there are times when you can let kids make decisions to show independence and there are times when you have to be a parent. Keeping a child eating healthy is one of those times you have to be a parent. Don't let the child make all the decisions.
Don't give up!
As stated in previous points, you will get frustrated and you will get stressed. Don't give up. You know that getting a child to eat healthy is something that will affect the rest of their life. Do it for them!
Return to Top of Feeding a Picky Eater
The Really BIG Secret to Feeding a Picky Eater:

Now that you've read all the basic pointers, let me give you a big secret that works for me when feeding my daycare children.
It started one time when I tried to feed the kids egg salad sandwiches. Not a single kid would eat them. I love egg salad sandwiches so I really wanted the kids to give them a chance and I was sure they would love them too.
A couple of weeks later, I tried them again. This time I told them they were Alligator Egg Sandwiches. I explained to them how I went across the street to the swamp that morning and wrestled an alligator so that I could steal his eggs. Then I chopped up the eggs and made them sandwiches. They were so fascinated with the story that they were all willing to give the sandwich a try. Over half of them ate the entire half of sandwich they were served.
Sometimes when I'm feeding a picky eater, I simply change the name of the food. An example of that might be that I've changed the name of popcorn shrimp to popcorn fish. I don't know why, but they eat it that way! And any kind of casserole I serve is noodles. It's either beef and noodles or chicken and noodles. I think kids just like saying the word noodles.

Want to Look Around Some More?...

DaycareAnswers Home
› Feeding a Picky Eater
| | |
| --- | --- |
| | Marcia Reagan is the creator of DaycareAnswers and lives in Central Minnesota with her husband and two children.  She's been an in-home daycare provider for over twenty years and loves to share her experience and passion for daycare with other providers.   |