DaycareAnswers Home › Kid Friendly Recipes › Dinner Recipes
Kid Friendly Dinner Recipes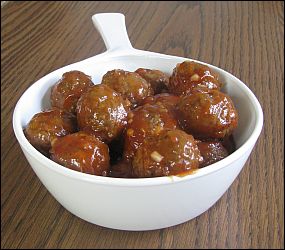 These are not only kid friendly dinner recipes, they are family friendly recipes. I believe that kids should be taught to eat the same things at the dinner table that the rest of the family eats so I've supplied you with recipes to please the entire family.

Dinner Recipes Table of Contents
---
Chicken Pot Pie
** One of the Kid Friendly Dinner Recipes Favorite **

1 can cream of potato soup
1 can cream of chicken soup
1/2 cup milk
16 ounces of frozen mixed vegetables
2 cups diced, cooked chicken
1/2 t. salt
1/4 t. pepper
2 - 9" refrigerated pie crusts

Combine the first seven ingredients in a large bowl.  Line a pie pan with one crust. Spoon the mixture into the crust. Top with second crust.  Crimp the edges to seal. Cut slits in various locations of top crust to allow steam to escape. Bake at 375 degrees for 40 - 45 minutes.
---
Tator Tot Casserole
2-pounds lean ground beef
1/2 c. chopped onion
16 oz. package frozen mixed vegetables
16 oz. box American Cheese
1 can cream of mushroom soup
16 oz. package frozen tator tots

Place raw ground beef and chopped onion in bottom of a 9 x 13" pan.  Add remaining ingredients in order listed. Bake 1 to 1-1/2 hours at 350 degrees.
---
Crazy Lasagna
1-1/2 pounds ground beef
1 teaspoon seasoned salt
1 package Lawry's Spaghetti Sauce Mix
1 - 8 ounce can tomato sauce
1 - 6 ounce can tomato paste
1-1/2 cups water
1 - 10 ounce package macaroni, cooked
1 - 16 ounce carton small curd cottage cheese
1-1/2 cups (6 oz.) cheddar cheese, grated

In a large skillet, brown ground beef until crumbly; drain fat. Add seasoned salt, spaghetti sauce mix, tomato sauce, tomato paste and water. Blend well. Bring to a boil; reduce heat and simmer, uncovered, for ten minutes, stirring occasionally. 

In a shallow 3-quart casserole dish, layer half of the macaroni, cottage cheese and meat sauce. Sprinkle with half of the shredded cheddar cheese. Repeat layers.

Bake, uncovered, in 350 degree oven for 30-40 minutes.
---
Taco Pie
1 package crescent rolls
1 cup crushed tortilla chips
1 pound ground beef
1 small onion, chopped
1 package taco seasoning mix
1 cup sour cream
1 cup shredded mozzarella cheese
1 cup shredded cheddar cheese
1 cup crushed corn chips

Brown the ground beef with the onion; drain grease. Mix in taco seasoning mix with 1/2 cup water. Let simmer for five minutes.

Spray a 10" pie pan with cooking spray. Line the pie plate with unrolled crescent rolls and seal the seams.
Sprinkle the crushed tortilla chips on the pie crust. Add the meat mixture; then the sour cream; then the cheeses. Top with the crushed corn chips.
Bake at 350 degrees for 20 minutes. Allow to set for 10 minutes before cutting.
Return to Top of Kid Friendly Dinner Recipes
---
Beef and Noodles
You might recognize this recipe as hamburger hotdish. But when I told the kids I was serving hamburger hotdish, they wouldn't eat it. When I changed the name to Beef and Noodles, the liked it! Weird, I know.

1 pound ground beef
1 can cream of mushroom soup
1/2 cup milk
1/2 package of wide egg noodles
1/2 can whole kernel corn
1/2 teaspoon salt
1/4 teaspoon pepper
1 cup shredded cheddar cheese

Fry the ground beef in a large frying pan. At the same time, put a pan of water on to boil for the noodles.

When the ground beef is browned, add the cream of mushroom soup and the milk. Stir well. When the water is boiling, turn the heat to medium high, add the egg noodles and cook for seven minutes.

Drain the corn and add 1/2 can to the meat mixture. Add the egg noodles and mix well. Top with the shredded cheddar cheese. Place a cover on the frying pan and cook on low heat until the cheese is completely melted.
---
Sweet and Sour Meatballs
** One of the Kid Friendly Dinner Recipes Favorite **
I used to serve meatballs in spaghetti sauce and make sure it was on a Monday so we could have Meatball Monday. But once they tasted this recipe, the kids don't want meatballs in spaghetti sauce anymore!

50-60 frozen meatballs
1/3 cup white vinegar
1 cup ketchup
1/2 teaspoon salt
1/4 teaspoon pepper
1/2 cup sugar
1 tablespoon dried minced onion

Preheat oven to 350 degrees. Spray a 9" x 13" pan with cooking spray. Cover the bottom of the pan with frozen meatballs.

In a separate bowl, mix the next six ingredients. Pour over the meatballs. (It may seem like the sauce will not cover the meatballs completely, but once it warms in the oven, it covers nicely.)

Bake, uncovered, for 45 minutes. Can be served alone or on a bed of rice or noodles.
---
Kid-Friendly Meatloaf
** The secret is in the sauce! **

I always make a double batch of this recipe because then I have leftovers for my family to eat!

2 eggs
3/4 cup milk
1/2 cup old-fashioned oatmeal
1/2 cup chopped onion
1 teaspoon salt
1/8 teaspoon pepper
1/2 teaspoon ground sage
1-1/2 pounds ground beef

TOPPING:
1/2 cup catsup
4 tablespoons brown sugar
1 - 2 teaspoons ground mustard

Combine the eggs and milk; stir in oatmeal, onion, salt, pepper and sage. Add beef and mix well. Pat into an 8 x 8 inch baking pan. Bake in a 350 degrees oven for 60 minutes. Pour off excess fat.

Combine catsup, sugar and ground mustard to spread over meatloaf.  Return to oven for ten minutes.
Return to Top of Kid Friendly Dinner Recipes
---
Chicken Puffs
This recipe can easily be used for dinner or for lunch.  I use it for a daycare lunch and then my kids eat the leftovers for dinner.

1 cup cooked, shredded chicken
4 ounces cream cheese, softened
1 teaspoon garlic powder
1 can refrigerated crescent sheet

Preheat oven to 375 degrees.

In a small bowl, mix shredded chicken, cream cheese and garlic powder.

Unroll the crescent roll sheet. Use a rolling pin and roll the sheet to a 13" x 9" rectangle. Cut the rectangle into 12 squares. Cut each square in half diagonally to form triangles.

Place a small teaspoon of chicken mixture onto each triangle piece.  Wrap the crescent dough around the chicken mixture and seal shut.  Place chicken puffs on a greased cookie sheet and bake for 12 - 14 minutes.
---
Chicken a la King (or Queen)
This has always been a popular recipe for my daycare kids, but became even more popular when, as I served it, I asked if they wanted a la King or a la Queen.

12 tablespoons butter
1 cup flour
1-1/2 teaspoons salt
1/4 teaspoon pepper
4 cups milk
2 cups water
2 teaspoons chicken bouillon granules
4 drops yellow food coloring
4 cups cooked chicken breast, cut into small cubes
Patty shells or english muffins
1/4 cup pimientos, chopped
4 ounce can mushroom buttons

If using Patty shells, preheat oven and bake the shells.

In a large kettle, melt the butter. Stir in the flour, salt, pepper, milk, water and chicken granules. Cook and stir over medium heat until thick and bubbly. Cook and stir two minutes more and then add the cubed chicken.

This is the point I serve it to the daycare kids. I add the mushrooms and pimientos before I serve the leftovers to my family.
---
Pizza Roll
This recipe was super easy to make and the kids LOVED it!

1 Pillsbury pizza crust
Pizza sauce (purchased or homemade)
Pepperoni
8 ounces of pizza cheese
1/4 stick butter (melted)
1/2 teaspoon garlic powder

Lay out the pizza crust on a floured surface. Roll it out to about an 11" x 17" rectangle. Spread with a thin layer of pizza sauce. Lay pepperonis in rows to cover the entire surface of the pizza. Sprinkle the cheese over everything.

Roll the crust into a large roll. Pinch the ends shut. Place on a greased pan with the seam facing down. Bake at 425 degrees for 15 - 20 minutes or until golden brown.

Mix the melted butter with the garlic powder and brush over the baked pizza roll. Let cool for 10 minutes and then cut into 1" slices.
Return to Top of Kid Friendly Dinner Recipes
---
Want to Look Around Some More?...
DaycareAnswers Home

›
Kid Friendly Recipes
› Dinner Recipes
| | |
| --- | --- |
| | Marcia Reagan is the creator of DaycareAnswers and lives in Central Minnesota with her husband and two children.  She's been an in-home daycare provider for over twenty years and loves to share her experience and passion for daycare with other providers.   |