Kids Christmas Party Ideas
If you have a group of kids that you need kids Christmas party ideas for, use this page for possible craft projects to make, games to play and food to eat. I like to throw a party for my daycare kids for every single holiday. It's not only a festive time, but kids can learn about the history of the holiday.
Kids Christmas Cookies Recipes
---
Kids Christmas Activities
Make a Christmas Gift for Mom and Dad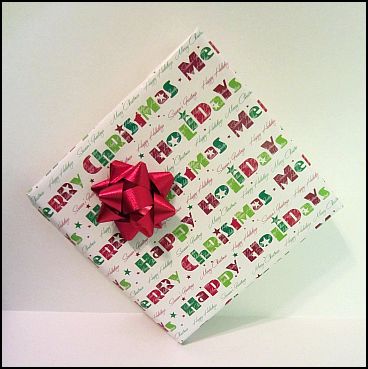 "A Gift of Love"
Set out a variety of small boxes and a variety of wrapping paper, ribbons and bows. Let the kids do the best they can to wrap a box up as a gift.
Type this up for the kids to tape to the top of their gift box.
This is a very special gift
That you will never see
The reason it's so special
Is because it's to you from me
You should never unwrap it
Please leave the ribbon tied
Hold the box close to your heart
It's filled with LOVE inside!
---
Kid's Christmas Games
"Santa Says"
It's the classic game of Simon Says, but it's Santa Says.
Assign a leader to the front of the room and have the child participants randomly spread out around the room. The leader gives easy commands such as stand on one foot, pat your head, touch your nose, etc. If the leader starts the command with Santa Says, the kids are to complete the command. If the leader does not say Santa Says, the kids should not complete the command. If a child does not complete the command at the right time, they are told by the leader to sit down. The last child standing is the winner of the game.
"Find the Ornament"
This game can be played with one ornament so only one child will find the object or you can use multiple ornaments so that more kids are able to participate. Use unbreakable ornaments. If you choose to use multiple ornaments, you can keep score. Make all the ornaments match except for one. Each ornament that a child finds is worth one point, except for the one different ornament that is worth five points.
"Hot Chocolate Relay"
Place a bowl of miniature marshmallows at the start line for each team, along with a plastic spoon. Ten or fifteen feet away, place an empty mug. Team members take turns carrying marshmallows from the bowl to the empty mug. The first team to fill their mug with marshmallows wins!
(Note: You may want to cover your floor with a plastic sheet to prevent a mess when marshmallows get stepped on.)
---
| | |
| --- | --- |
| | Easy Kids Christmas Cookies Recipes |
Kids LOVE to decorate cookies. Spend time during your party letting them decorate cookies that they can take home with them later. Expect a mess, so put an art cloth down on your table and smocks on the kids and let them decorate to their heart's content.
Visit Easy Kids Christmas Cookies Recipes for possibilities at your party.
---
Kids Christmas Songs




Sing Christmas carols throughout the whole party to keep spirits bright!
---
Kids Christmas Jokes
What do the Elves learn in school?
               The Elf-abet
What is your Mom and Dad's favorite Christmas carol?
                Silent Night
Exit Kids Christmas Party Ideas and Return to DaycareAnswers Home Page
| | |
| --- | --- |
| | Marcia Reagan is the creator of DaycareAnswers and lives in Central Minnesota with her husband and two children.  She's been an in-home daycare provider for over twenty years and loves to share her experience and passion for daycare with other providers.   |