New Years Projects for Preschoolers and Toddlers
The New Years Projects for preschoolers and toddlers have been hand-picked to be sure they are appropriate for even the littlest hands to be able to participate in finishing the project.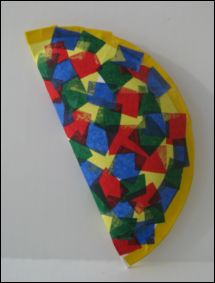 Supplies Needed:

7" round paper plate
Dry beans
Colored electrical tape or other strong tape
Multiple colors of tissue paper
Elmer's Glue
Paint brush

Fold the paper plate in half. Pour approximately 1/3 cup of dried beans in the center. Cut small strips of colored electrical tape or other strong tape to seal the beans inside the paper plate.

Cut several different colors of tissue paper into small squares. Spread glue onto the paper plate and then overlap tissue paper squares on the glue. Spread another thin layer of glue over the top of the tissue paper. Let dry.

Return to Top of Page
Want to Look Around Some More?...
Exit New Years Projects for Preschoolers and Return to Projects for Preschoolers
Return to Daycare Providers Page

Return to Parenting Page

Return to DaycareAnswers Home Page
| | |
| --- | --- |
| | Marcia Reagan is the creator of DaycareAnswers and lives in Central Minnesota with her husband and two children.  She's been an in-home daycare provider for over twenty years and loves to share her experience and passion for daycare with other providers.   |