Rainbows, leprechauns and shamrocks all represent St. Patrick's day!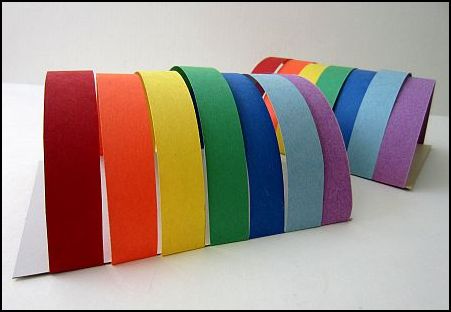 These Saint Patricks Day Projects for preschoolers and toddlers have been hand-picked as projects even the littlest hands can work on and complete.

Make a Rainbow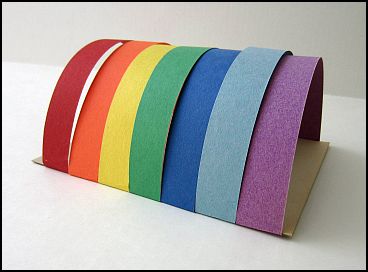 Supplies Needed:

Cut 1"x12" strips of construction paper. Fold a 1" piece at each end of the strip. Spread glue on the 1" tabs and attach to the cardboard piece.

Return to Top of Page
St. Patrick Mobile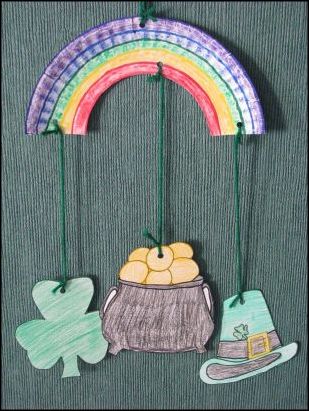 Supplies Needed:

Print the Saint Patricks Day Mobile Template and cut out the shapes.

Cut a paper plate in half and then cut the middle semi-circle to form the shape of a rainbow.

Let the kids color or paint the rainbow and Saint Patricks Day Shapes in any manner they'd like. You might want to help them out by drawing lines on the rainbow for each color.

Punch a hole at the top of the rainbow and then three holes at the bottom of the rainbow.

Cut yarn in strings of 6-8". Attach the Saint Patricks Day shapes to the rainbow and a string to the top of the rainbow.

Return to Top of Page
Tissue Paper Shamrock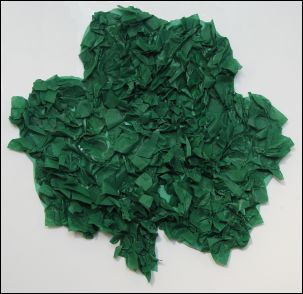 Supplies Needed:

Print the Shamrock Template on cardstock paper and cut it out.

Use the template to trace shamrocks onto green tag board.  Cut the shamrocks out.

Cut tissue paper into 1-1/2" x 1-1/2" squares. Crinkle the tissue paper, dip into the Elmers glue and place onto the green tag board shamrock.

Once dry, tape the shamrock to a window or the refrigerator for a St. Patrick's Day decoration.

Return to Top of Page
Want to Look Around Some More?...

Exit Saint Patricks Day Projects for Preschoolers and Return to Projects for Preschoolers

Return to Daycare Providers Page

Return to Parent Page

Return to DaycareAnswers Home Page
| | |
| --- | --- |
| | Marcia Reagan is the creator of DaycareAnswers and lives in Central Minnesota with her husband and two children.  She's been an in-home daycare provider for over twenty years and loves to share her experience and passion for daycare with other providers.   |