DaycareAnswers Home › Projects for Preschoolers › Fall Projects for Preschoolers
Fall Projects for Preschoolers

These fall projects for preschoolers and toddlers are perfect for a daycare environment or at home with your own kids. All projects have been tested by my own daycare kids to be sure they have the skills needed to participate in the project.
Fall Leaf Sun Catcher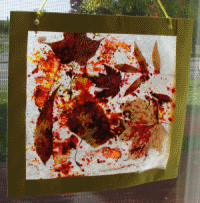 Supplies Needed:
- Fall leaves

- Fall colored paper

- Iron

- Fall colored yarn


- Waxed Paper

- Glue

- Scissors

- Suction Cup Hooks





- Fall Colored Crayons

- Paint Brush

- Paper punch

Directions:

Take the kids on a walk to collect fallen leaves.  Flatten and dry the leaves in large books for a couple of days.
Shave crayons of different colors. An electric crayon sharpener works great.
Cut two sheets of wax paper 12" x 12" Have children lay 5-6 leaves on one piece of wax paper.  Sprinkle shaved crayons over the leaves. Lay second sheet of wax paper over the top of first.  Quickly run the iron over the top of the waxed paper. You want the wax to melt, but not run all together.
Next, trim the wax paper to even out the edge.  
Cut four 2" x 12" pieces of construction paper in child's choice of color to frame the project. Fold construction paper in half lengthwise and glue to all edges. Trim.
Punch two holes on the top edge of the frame.  Let child choose a color of yarn to lace through the holes to make a hanger.
Provide suction cup hooks to hang sun catcher in a window.
Finger Print Autumn Tree



Supplies Needed:

- Brown Tempera Paint


- Scissors

- Glue stick

   (Red, Yellow & Orange)

- 11" x 17" paper

Directions:
Print out the Autumn Tree Template. Paint the tree trunk with brown tempera paint. Let it dry.
Cut out the tree trunk. Glue the tree trunk to the 11" x 17" piece of paper.
Using the homemade finger paint, makes leaves on the tree and on the ground using fingerprints to do so.
Return to Top of Fall Projects for Preschoolers
Want to Look Around Some More?...
DaycareAnswers Home

›
Projects for Preschoolers
› Fall Projects for Preschoolers
| | |
| --- | --- |
| | Marcia Reagan is the creator of DaycareAnswers and lives in Central Minnesota with her husband and two children.  She's been an in-home daycare provider for over twenty years and loves to share her experience and passion for daycare with other providers.   |