How to Get a Letter from Santa Claus




Be sure to get your request to Santa by December 15th so that your child is sure to receive their letter by Christmas.
1. Have your child write a letter to Santa.
The letter should not only include their "wish list", but also greetings to Santa, Mrs. Claus, the elves and the reindeer. Also, have them right some personal things about themselves so that Santa can respond to them is his return letter.
Daycare providers, you can do this for your daycare children as a project. I do it. Sometimes I address the letters so that the children receive their Santa letter at daycare and sometimes I address the letters so they receive them at their own house.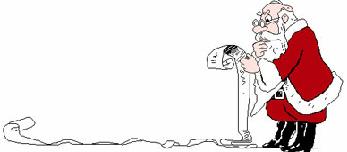 2. Write a letter from Santa to your child.
Answer any questions that was in the child's letter. Talk about the items on their wish list. Name a behavior that needs improving before Christmas. Find a fancy way to sign Santa's name. Place this letter in a normal sized envelope that is addressed to your child and the return address is Santa Claus, North Pole. Be sure to put a stamp on it.
For free stationery for your letter from Santa, click here.
Click here for pre-written letters from Santa.
3. Send your child's letter to Santa.
This letter can be addressed to Santa Claus, North Pole. You can put it in the mailbox and let is disappear or just let the child think you sent it and never put it in the mailbox.
4. Mail the letter from Santa to the North Pole.

The letter you wrote from Santa should be placed inside a larger envelope addressed to:

North Pole Christmas Cancellation
Postmaster
5400 Mail Trail, Fairbanks, Alaska 99709-9999



As long as your letter gets to Alaska by December 15th, your child will receive their letter from Santa that is postmarked from the North Pole before Christmas.
Want to Look Around Some More?...
Exit Letter from Santa and Return to Christmas Craft Page
Return to DaycareAnswers Home Page
| | |
| --- | --- |
| | Marcia Reagan is the creator of DaycareAnswers and lives in Central Minnesota with her husband and two children.  She's been an in-home daycare provider for over twenty years and loves to share her experience and passion for daycare with other providers.   |