DaycareAnswers Home › Projects for Preschoolers › Easter Projects
Easter Projects for Preschoolers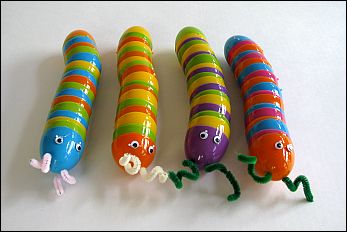 These Easter projects for preschoolers and toddlers are perfect for a daycare environment or at home with your own kids. All projects have been tested by my own daycare kids to be sure they have the skills needed to participate in the project.
Easter Egg Caterpillar
This craft can be made at Easter because it uses plastic eggs or it can be used for a bug theme any other time of the year.  It's super fun because it's durable enough for the kids to enjoy playing with after they put it together.

Supplies Needed:

9 plastic Easter eggs per caterpillar
Pipe cleaners, 2 per caterpillar
Wiggle eyes
Glue for plastic
Hot glue gun



Directions:

** Note: For this project, you need to buy plastic eggs that have two holes in each end.
Have each child pick three eggs of three different colors. Break the eggs apart so that you now have eighteen separate pieces.
Twist the two pipe cleaners together at one end. The tail is made by threading a small half of an egg onto the pipe cleaners. Choose a large half of a different color egg and snap together.
The rest of the caterpillar is made by stacking egg halves all in the same direction as your first small egg half onto the pipe cleaners, making a pattern with your colors. It does not matter the order of large and small.
When you get to the end of your eggs, trim the end of the pipe cleaners and then curl with a pencil to make the antennae.
Glue on wiggle eyes with hot glue gun. Glue the whole egg at the tail end closed with plastic glue.
Return to Top of Easter Projects for Preschoolers
Easter Bunny Basket

(Easter Projects for Preschoolers)
These cute little bunny baskets can be made by the kids and then filled with treats by you to send home with them at the end of the day.




Supplies Needed:

Pink marker or crayon
2-wiggle eyes
Pink pom pom
Cotton ball
Scissors
Glue
Easter grass
Jelly Beans or other Easter candy
Directions:
Print the Bunny Template. Cut out the pattern.
Color the inside of the ears pink. Glue on the two wiggle eyes, the pink pom pom as the nose and the cotton ball for the tail marked by an "x".
Fold the pattern on all the dotted lines. Glue the two marked sections. Fold into a box shape.
Place Easter grass in the bottom of the box and then fill with Jelly Beans or Easter candy of your choice.
Want to Look Around Some More?...
DaycareAnswers Home

›
Projects for Preschoolers
› Easter Projects
| | |
| --- | --- |
| | Marcia Reagan is the creator of DaycareAnswers and lives in Central Minnesota with her husband and two children.  She's been an in-home daycare provider for over twenty years and loves to share her experience and passion for daycare with other providers.   |