Kid Party Ideas
Want to plan a party for your toddler, preschooler or a group of children that is loads of fun and little stress on you? Incorporate these Kid Party Ideas in your plans and you will not only please the guest of honor, but also every guest that attends your party!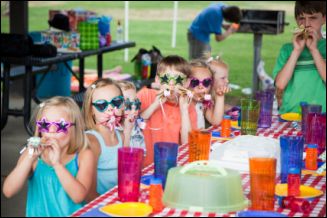 Whether it's a Birthday Party, a Holiday Party or a Pool Party, you will find ideas that start with sending out invitations and go all the way to gift ideas for the guest of honor.
Planning the Perfect Kid Party
The biggest secret for planning a party for a toddler or preschooler is K.I.S.S.
Keep It Simple and Short.
Kids this age will easily get overwhelmed with excitement. You don't want to plan a party for what you would like and what you want. Keep in mind how old your child is and the personality traits of your child and plan accordingly.
Things to Consider When Planning the Perfect Party for Toddlers and Preschoolers
Let Your Child Help in the Planning - The party will mean a lot more and be more enjoyable for the child if they helped make decisions and helped plan the party.
Time of the Party - Kids this age still take naps so don't plan your party at a time when the children should be napping.
Who to Invite - Decide how many guests your child can reasonably handle at their party. Then decide if you're going to allow siblings to attend or if you need to request that siblings do not attend.
Adults at the Party - Take into consideration the age of the children you are inviting, how familiar you are with those children and what activities you have planned during the party. You can either request that a parent stay with their child at the party or you can plan to have additional adults you know at the party to help you keep things organized.
Plan Activities for the Children - Kids need to be able to run off energy. Your party will be much more successful and stress free if you plan activities where the children are moving around rather than hiring entertainment that the children must sit still for and watch. If they are required to sit still for awhile, also give them time to run wild outside to burn the built up energy.
Spread Out the Present Opening - The birthday child can get very overwhelmed when all the attention is on them and they have a pile of presents to open. Instead, take moments throughout the party when they open one or two presents at a time.
Goody Bags - Send your guests home with a goody bag to thank them for coming to the party and making the day special for the birthday child.
If you need some food and recipe ideas for the party you are planning, take a look at this extensive list of party recipes supplied by Sandee. 
Kids Holiday Parties
Kids Pool Party
A Kids Pool Party can be in the backyard, at a hotel pool or at a community center swimming pool.
After you've arranged for a place with a swimming pool, you need to plan some Pool Party Games to keep the party fun and exciting.
Scavenger Hunts for Kids
You can set up super simple Scavenger Hunts for Kids to introduce younger children to the idea of what a Scavenger Hunt is.
The younger your children are, the simpler you will need to keep the hunt.
Looking for more holiday party games and holiday scavenger hunt ideas?
Scavenger Hunt Guru contains a great collection of holiday games as well as indoor and outdoor scavenger hunts that would be great for your next kids party or even as a rainy day activity.
| | |
| --- | --- |
| | Marcia Reagan is the creator of DaycareAnswers and lives in Central Minnesota with her husband and two children.  She's been an in-home daycare provider for over twenty years and loves to share her experience and passion for daycare with other providers.   |